December, 2004:
…..
Wendy! And what a wonderful Secret Pal she was too! Thanks Wendy!
Wendy sent me a replacement parcel while we thought one was lost, it arrived on Saturday and contains many wonderful goodies. More on them tomorrow as it's late here and I really should get some sleep.
Oh, and who was I Secret Pal to? Teresa!
A little later than I'd planned but here's the inside scoop on the contents of my SP3 parcel!
A Wonder Woman First Appearance figure!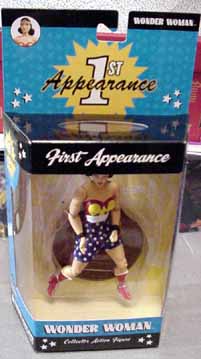 Extra long cords for my Denise Knitting set in 40" and a 52" lengths
Some luscious loopy mohair in beautiful variegated blues (sadly the colours haven't photographed very well)
A Halloween Witch Pez despenser
and this very cute card!
Thanks again Secret Pal!
I knitted an eyelash scarf for a friend at work a few months ago.
Her daughters keep stealing it so today she asked if she could
commission me to knit two scarves. I had to gently explain that while I
enjoy knitting the odd present for people I don't do commissions. I
like her but I don't want to fall into the trap of having to knit
things for people.
My place of work isn't in the centre of the city so quite often people
are booked from various stores etc. to sell things in the foyer. Today
apparently someone had been selling knitwear because another colleague
told me that she'd seen them selling eyelash scarves for £25. She suggested that
I could make money knitting them as a sideline. I had to do more gentle
explaining, in that it takes me a week to knit a scarf so it was hardly
a money spinner.
Someone at work posted an email today, after the knitwear stand had
been and gone, offering their services for anyone who wanted things
handknit but at a cheaper price than the stall. It was handy in that I
could refer my scarf seeking friend to them but it does make me wonder
why someone would price their work so low. I don't think some people
realise the value of their work.