Yes, it's a commercial concept but Andy and I are old romantics! 🙂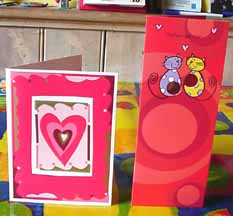 Andy's is the hearts one – which was screenprinted in Buffalo, NY. Mine is the one with two cats and, although you can't see it, says "Perfect Partners". When the card is closed you can see two sparkly pom poms in the cutouts.
Andy's present hasn't yet arrived from Amazon.co.uk. 🙁 But this is what he got me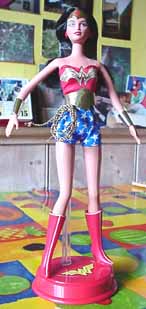 Yes, I'm 31 years old but I still like Wonder Woman! I loved the Lynda Carter series as a kid, although looking back it's a bit campy, and I still collect the comic book.
Here's another view of her
She will join my collection of various action figures, statues, etc. It's not a serious collection because I don't like to keep things preserved in boxes, but one of my favorite items is a book mark that says "Reading is strength".
And although it's still chilly outside this glamour puss is showing herself off in the kitchen.
This is the third Amaryllis I've owned and they can last a good few years if you take care of them. I'm not always that good at remembering. My garden is mostly perrenials because they can take care of themselves, houseplants don't always fare too well with me!
And upstairs is another Glamour Puss!
Jake in one of his favourite places, the tatty, scratched up basket outside the bedroom. I got this basket from a woman I used to work with some years ago. She'd bought it for her cat who had turned her nose up at it. I was rather surprised when our cats actually liked it and used it. As I wrote before it is tatty looking now because they've been sleeping in it for years but they like it. The pic is a bit bright but it is representative of just how white Jake's fur is!
Art Fibers order – the yarn I ordered is actually for two scarves. One will be made from the lovely Oz the other from Cartier and Nemo. Inspired by Becky and Nora's scarves from combining various yarns I've started a new scarf in some Anny Blatt Angora Super in Black, Mutine from Bouton d'Or in Prune and a coordinating unnamed wine coloured chenille that I bought on a cone during my trip to Undy Yarns some time ago. They've all been sitting unused in my stash for at least a year, the Mutine and chenille for longer, so it's a good stash busting project. I'm knitting it in a drop stitch pattern since Becky's looked so delicious! And the Angora Super is just amazing! It feels so soft and wonderful!